Binary Plan
A binary plan is a Multi Level Marketing compensation plan which allows members to have only two fore-front members. If a member sponsors more than two new members, the excess are placed at levels below the sponsoring member's fore-front. This "spillover" is one of the most attractive features to new members since they only need to sponsor two members to participate in the compensation plan.
In binary plan, the structure grows faster and therefore is beneficial for the business to earn and grow quickly. There are several advantages of binary plan like People can earn rewards from their team sales even though they may have only personally introduced 2 sales. Matching bonuses generate an extra incentive to help the people you bring in to earn more, the more they earn the more you earn.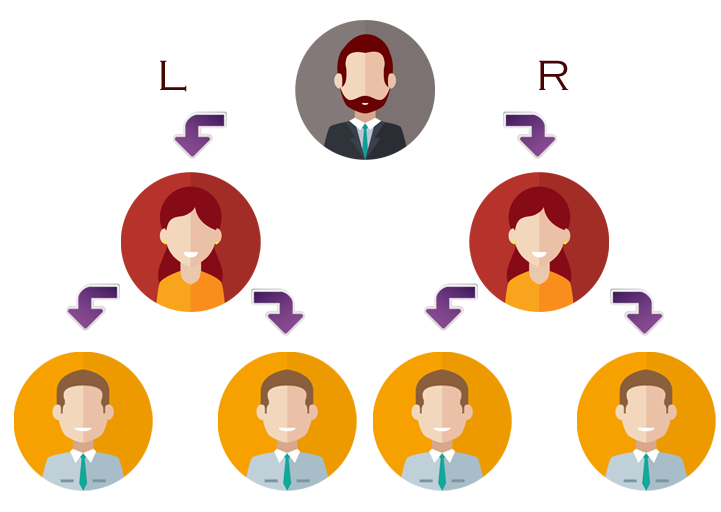 Binary MLM Plan is the most exciting Plan among all types of MLM pay plans because of much more payouts.
Binary Plan is a MLM Plan which pays to infinite downline. That means that a member will be paid by downline, even if the downline are 15 level deep in your structure.
With a binary model, your upline will place their new members under you into what's called your power leg. This is referred to as spillover. Your power leg will usually grow quite quickly.
Binary plan is great plan for nurture teamwork in a MLM organization. It plays an important role for you and your downline success. This build a team unity and cooperative energy.
Binary Plan offer the greatest potential generational earnings depth of any of the four basic compensation plans in network marketing.
You really only need to concentrate on building one let of your business- your 'Money Leg'.
The initial Binary Compensation Plan is much easier to understand and maintain qualifications for than other plans created before its' inception.
Binary MLM Compensation Plans help the average and even more than average network marketers to be able to achieve success, and realize the potential for financial freedom.
?