AUTO FILL POOL PLAN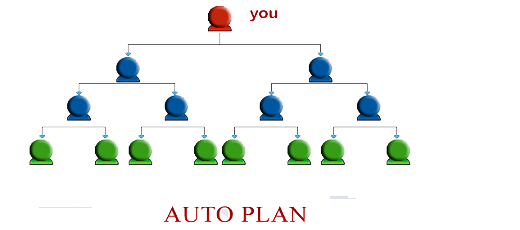 People also seem eager to join such a plan for no working income. Here you need to place your ID and activate either by full fill the company condition or by top up.
Now your ID jumps in Auto pool. This auto pool can be set by the admin of company 3x / 4x or whatever company want. Now the pool keeps going auto filling as per global joining. The logic will remain the same from top to bottom and left to right.
After a certain stage, you'll be able to earn as Auto Fill Pool Income. If the Company wants then can set more pool and after one to promote to another. In a plan, there could be 2 or more pool that will keep auto filling on global work out.
How it works
Auto fill pool plan is one of the most popular plan at current time. In this plan joining down line a bit different than other mlm plan. After completing certain level of joining or you can use different work for it like, pool or club – member will be upgrade to next level of club. And joining money also increase a significant amount. The more upgrade club member is joining, the more amount of money they will get.

Suppose, according to a company policy first level of the pool is 7 and joining will be left to right. So the first member entering the club is A, after that 6 others member can join as down line to him. After full fill the pool level A will be upgrading to next level club and again he will get another 6 members as a down line and that's how it will be going. The joining money will be double or more in the second pool level. And it will keep increasing according to pool level.

?